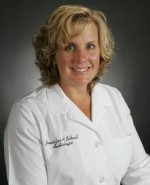 Jennifer Schaal-Sampson, AuD, CCC-A has owned American Family Hearing Center since 1995. She completed her Doctorate in Audiology in August, 2000. She is a New Jersey licensed audiologist and hearing aid dispenser. Through the years, American Family Hearing Center has helped thousands of patients achieve better hearing and we are committed to providing the highest possible patient satisfaction.

Awards, affiliations, publications
Dr. Schaal-Sampson is currently serving a second five-year appointment to the New Jersey Hearing Aid Dispensers Examining Committee and she has served two terms as the board president.
Dr. Schaal-Sampson was one of the first Audiologists in the State of New Jersey to complete the Doctorate of Audiology through the University of Florida. She is member of the American Speech Language Hearing Association and fellow of the American Academy of Audiology.
Dr. Schaal-Sampson attended Douglass College at Rutgers University for her Bachelor's degree in Speech and Hearing Science and received her Master's in Audiology from George Washington University. She received her clinical doctorate in Audiology from the University of Florida in 2000. She has been working as an Audiologist and Hearing Aid Dispenser since 1993 in a variety of clinical settings. In March 1995, she purchased American Family Hearing Center in Allenhurst. As the owner of American Family Hearing Center, she has upgraded the facility and added advanced diagnostic and hearing aid fitting techniques including: central auditory processing testing and digital hearing aids. She provides audiology and hearing aid services to several area nursing homes and has had a satellite office at Seabrook Village Medical since 1999. She has also been an adjunct faculty member at the College of New Jersey.