NJAHHP is delighted to welcome John Berry to the virtual stage at its 2020 Virtual Hearing Conference on December 1. His topic is: The acoustic evaluation of frequency balance words at the ear drum and their use in fitting Hearing Aids.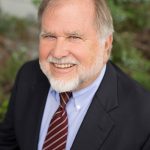 John Berry, M.S.
John Seymour Berry received a BA from Saint Edwards University in 1968. During his tenure at the University of St. Edwards, John worked as a house parent and supervisor at the Texas School for the Deaf. Because of this experience, John began his Masters in Deaf Education at the University of Texas in 1968. He transferred to the University of Tennessee where he received his MS in Deaf Education in 1972.
After graduating, John worked at the University of Tennessee for 10 years and served as a teacher-clinician and coordinator of the Verbotonal Preschool Program. He was an instructor and supervisor of the Verbotonal Adult Aural Rehabilitation Program. John also studied in Zagreb, Croatia, at the Centre SUVAG to become a trainer in the Verbotonal Method and is a certified Verbotonal Aural Rehabilitation Therapist.
John's career goals have included establishing both domestic and international hearing aid assistance programs; being involved in research to explore the field of auditory perception, and establishing a therapy and training center to promote the principles and strategies of the Verbotonal System.