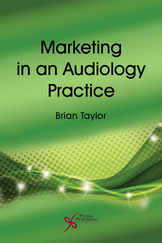 2015 NJAHHP Conference Presenter Brian Taylor edited a new book focusing on helping hearing health professionals market themselves and their practices.  
An excerpt from the March 19, 2015 profile of the book in The Hearing Review:
Plural Publishing, San Diego, Calif, has announced the release of a new book on April 1, 2015, titled Marketing in an Audiology Practice, that provides an in-depth look into all facets of marketing for hearing care professionals wanting to market themselves and grow their business. Edited by audiologist and frequent contributor to The Hearing Review, Brian Taylor, AuD, this practical text strives to further the autonomy of the audiologist by presenting an A to Z approach for creating and implementing marketing plans and budgets in both for-profit and not-for-profit settings.
A key focus of this text, according to the publisher, is how to incorporate new and emerging social media tools as part of a comprehensive marketing strategy to appeal to a broader patient base. Taylor's book features contributions from hearing industry experts Curtis Alcock, Karen Ann Jacobs, Geoffrey Cooling, Robert Tysoe, and Donald W. Nielsen.
Visit the Plural Publishing website for more details about the book.