Regional Continuing Education Series
October 17-18, 2014
Enterprise Center at Burlington County College
3331 Route 38
Mt. Laurel, NJ  08054

The NJAHHP & the PHHA were pleased to jointly host a very special Continuing Education Course on "Tinnitus Therapy."  The Conference delivered up-to-the-minute current information with immediate relevancy to attendees for best practice skills and product offerings for Hearing Health Care Practitioners providing Tinnitus Treatment to their patients.
The list of topics for this special Conference were taught by Richard Tyler, Ph.D. author and nationally recognized authority on "Tinnitus Therapy" and invited guest speakers.
The Conference was held over October 17th and 18th 2014 at the beautiful "Enterprise Center" located on the Burlington County College Mt. Laurel Campus just off Rt. 38 in Mt Laurel NJ.  The facility offers state of the art conference facilities, free onsite parking and great food services!  This location is just minutes from Philadelphia, Rt. 295 and the NJ Turnpike.
Conference topics included:
Classification and background on tinnitus
Medical evaluation and treatment for tinnitus
Patient Centered Tinnitus Therapy
When to refer and when to treat tinnitus
Hearing aids for tinnitus
Grand rounds with manufacture experts on tinnitus treatment product
Exhibits
Patient case studies
Sound therapy
Future direction of tinnitus treatment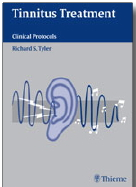 For those who missed the Conference, Dr. Richard Tyler's book "Tinnitus Treatment, Clinical Protocols" is available for purchase.
This very Special Conference is an absolute must take educational opportunity!!  As Sergei Kochkin, PhD has stated from his exhaustive research: "people may not visit you for their hearing loss but they may if you hold the promise of relief tor their Tinnitus!"  
The Conference was approved for 1.1 CEU credits from ASHA and AAA, and 11 CEU credits from IHS.  New York State Continuing Education Credits were also available upon request.  
2014 Conference Exhibitors: